Transport of the Future 2021
We invite you to take part in the University competition "Transport of the Future".
The University competition "Transport of the Future" is held by the educational institution "Belarusian State University of Transport" with the support of the Transport and Communications Ministry of the Republic of Belarus with the aim of enhancing the research activities of pupils and students, and creating conditions for realizing the creative potential of youth.
THE MAIN OBJECTIVES OF THE COMPETITION ARE
providing the opportunity for participants to realize their creative potential by developing transport-related projects, to receive their assessment from the professional and scientific community;
creation of conditions for sustainable professional development of youth and popularization of transport specialties;
identification of the most talented representatives of student youth with an interest in engineering work and innovative activities, creating conditions for supporting their scientific and technical activities and obtaining engineering education.
THE COMPETITION IS HELD IN TWO KINDS OF COMPETITION WORKS
operating models, layouts, samples of the proposed new technology or technological processes related to transport (type of the Competition: "operating models and layouts");
in the form of a competition of written projects on the topic of improving transport equipment and technologies that have the character of innovative proposals (type of Competition: "design work").
Participants can take part in one of the types of the Competition of their choice or simultaneously in both of them, while the results obtained are not summed up and do not affect the determination of the winners.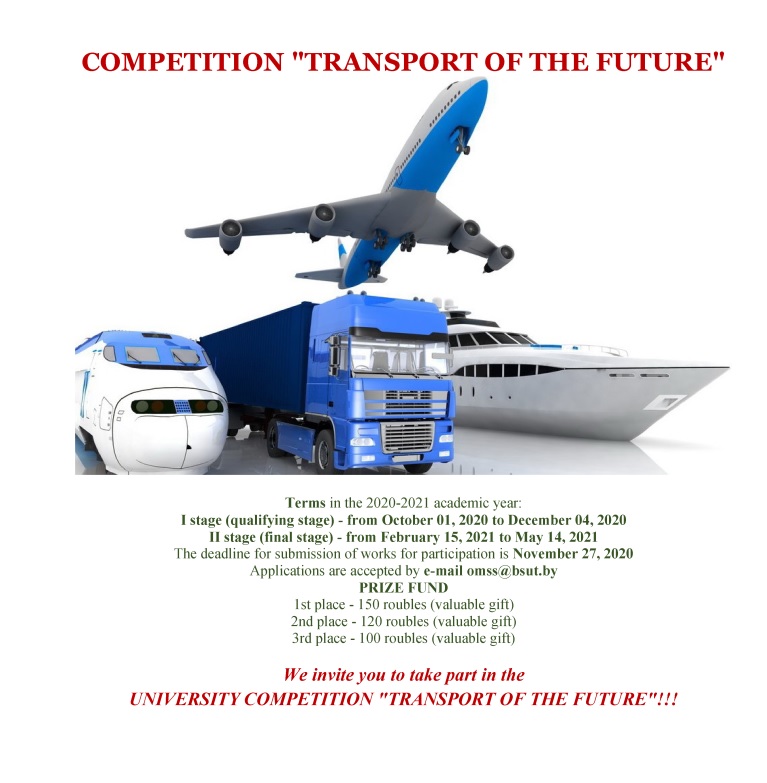 Нашли ошибку? Выделите ее и нажмите Ctrl-Enter